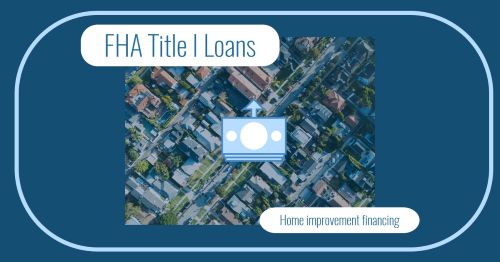 No matter the age and condition of your home, you may find needs to renovate. It may be necessary to replace old kitchen tiling and countertops, for example. Or, you may wish to build an in-law suite to easily expand your living space. As life goes on, routine repairs may need to be made.
These repairs, while needed, can become expensive. Outside financial help can be required to complete these home improvement projects. Here is a basic guide to funding home renovations through FHA Title I loans.
Calling into question the no-equity problem
Many will search for home equity loans when it's time to start home renovations. These loans require your home to have built up some form of equity. Unlike a home equity loan, FHA Title I loans do not require equity.
This may include individuals who owe more on their mortgage than what it's currently worth. This form of FHA loan can grant up to $25,000, regardless of home equity.
Requirements for a FHA Title I loan
These loans can be acquired through banks and other financial establishments. They have to be certified HUD-approved lenders for Title I loans. However, it's important to note the Federal Housing Administration doesn't directly establish these loans. This means loan closing costs and fees differ by each lender.
Home collateral is used to secure a loan amount of over $7,500. The maximum loan amount correlates to the increase in home value once the project is complete.
Applying for a Title I loan
When applying for a FHA home improvement loan, your lender will run a credit check. They may also require copies of W-2s, pay stubs and other financial documents. Once approved for the loan, you will have monthly payments just like a traditional mortgage.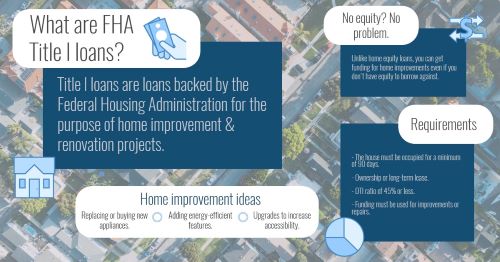 There are many pros to utilizing a FHA Title I loan, including fixed interest rates and relaxed requirements for qualification. If you're interested in embarking on your next home improvement project, consider a FHA Title I loan for financial assistance.